A Poem For Kirsty

Died 20 February 2002, aged 25 years

©Kathy (A friend of Kirsty's mum)

Although I never met you we were links in a chain

I know about the joy you gave I understand your pain

For we can't always see ourselves the way that others do

You didn't plan to leave us yet, self doubt just blurred your view.

And Kirsty I know how you tried to come to terms with 'You'

I know you longed to change your path, take footsteps fresh and new

But being so young and full of life and thinking you'd be fine

You'd simply put it all on hold and take those steps some time.

And Kirsty you know you were loved by mum and dad and Graham

You didn't mean to make them sad to cause them all this pain

You know that they will not forget your fun and happy smile

Be sure that you are in their hearts, be peaceful now awhile. 

With Love from Kathy

"It is not in the stars to hold our destiny but in ourselves."

William Shakespeare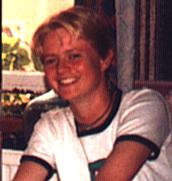 ©Designed, built and created by Jan Andersen 2003-2017

All rights reserved